Fela Kuti was born on October 15, 1938 in Abeokuta, Nigeria. 
He came from a middle-class family and his father was the chief medical officer in the local army barracks, resulting in Fela Kuti growing up with one foot firmly planted in each world—his father's strict discipline and his mother's traditional African beliefs intermingling with the seedy street life that surrounded him on all sides.
Why did Fela Kuti start playing the saxophone?
Fela Kuti's saxophone playing is especially interesting in light of his background as a Nigerian musician. 
Fela was educated in London and traveled to New York during a time when jazz was popular, and he absorbed much from that culture.
The importance of his music in today's world
Music has many styles and influences that come from multiple countries, cultures, and genres. 
One of them was Nigerian singer Fela Kuti's Afrobeat genre that came about in Nigeria.
How he played to create a new genre called Afrobeat
What makes Fela's sax playing so influential? It was not just his skill, but how he played and how he crafted Afrobeat. 
There are two ways to be a good player: perfect your craft or change it entirely.
He went on tour with James Brown, the Godfather of Soul
Toured with James Brown in 1966. The Nigerian musician Fela Kuti and his band created some of their most influential work after moving to London, where they played in packed venues across Europe before becoming a fixture on BBC radio.
Many things are coming out because I am playing my horn. — Fela Kuti
The Musical Prodigy and Musical Influencer of Shola Emmanuel, among others.
All musicians want us to enjoy their music, buy their recordings, and come to their concerts. ​But some musicians want more than that. Some musicians want their music to stir us into action. These musicians want to see changes in the world at large, and they want their songs to be influencers of change.
Peter Yarrow of the famed folk trio Peter, Paul, and Mary not only sings about how society can be better, he actively works to make society better. Bono is world-famous for his defiant and passionate songs, but he is also very active politically and as a philanthropist.
In the jazz world, perhaps no one combined the roles of artist and influencer more than Fela Kuti. A quick review of his website (felakuti.com) and Wikipedia show that he was an accomplished musician, and he was also a man of action.
Kuti's musicianship is well documented. He is credited with developing the Afrobeat sound, a musical style that combines jazz and funk with traditional Yoruba musical styles. A native and lifelong resident of Nigeria, it's easy to understand how Kuti would have influenced​ his fellow Nigerian​ Shola.
Kuti rose to stardom in the 1970s, not just in Nigeria but all over Africa. Since there were so many African languages and dialects, he sang his songs in pidgin English to reach a wider audience. His 27 albums have been popular worldwide.
But just making music wasn't enough for Fela Kuti. During a 1969 tour of the United States, he was introduced to the Black Power movement and it greatly influenced him. He wanted changes in his home country as well and he wanted to be an influencer of those changes.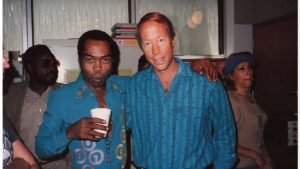 As his musical fame was growing, Kuti didn't shy away from criticizing the military juntas in Nigeria. In 1970, he founded the Kalakuta Republic commune, which Kuti declared to be independent of the military government. His 1977 album Zombie was a thinly-veiled, scathing critique of the government.
The album was a huge success for Fela and his fans, and also really ticked off the government. So much so that the next year they raided and burned down the Kalakuta commune, killing his elderly mother, and destroying much of his musical equipment and recordings.
But even this horrific event didn't deter Kuti. In 1979, he nominated himself as a candidate for president in Nigeria's elections, perhaps the ultimate position for an influencer, although he was not officially approved to run. He formed a political party in 1983, the "Movement of the People". He even tried to act as a social influencer when he was performing, such as when he participated in Amnesty International's A Conspiracy of Hope concert at Giants Stadium in New Jersey. (Bono performed in that concert as well.)
Kuti loved making music, but he also knew the music had to have a purpose. Wikipedia quotes him from an interview in Hank Bordowitz's Noise of the World as saying, "Music is supposed to have an effect. If you're playing music and people don't feel something, you're not doing shit. That's what African music is about."
Although he passed away in 1997, Fela Kuti's influence is felt by many people still today, including his fellow Nigerian, Shola. Kuti's passion for music and his country was a big inspiration for Shola's song "Kind of Afrika".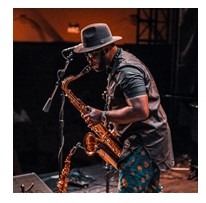 That song, Shola said, "asks the question 'What kind of African are you'… and how our African culture is revealed in our roles as parents and children, in business, and in relationships. How do we harness the strength of culture and build up legacies set by the great heroes like Nelson Mandela, Fela Anikulapo Kuti, and Martin Luther King Jr . This song Kind of Afrika is about letting our fathers' achievements be the vision for love and equality. Let's keep shining the light."
Music can be so much more than just music.