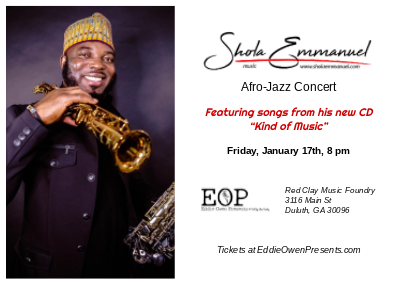 Afro jazz saxophonist Shola Emmanuel will be debuting new songs from his upcoming album "Kind of Music" at the Red Clay Music Foundry in Duluth on January 17th.
Shola is very excited about the show. "I can't wait to play at Red Clay," he said, "and I can't wait to play these songs for my fans. We've been working on them in the studio and now we're ready to play them in concert."
A true interpreter of jazz in the African style, Shola's performances connect with both jazz connoisseurs and those new to the genre.
Shola has performed in the United States, Canada, Italy, France, Africa, and the United Kingdom. And he's worked with some of the most respected performers in professional music, including Quincy Jones, Kirk Whalum, Kamasi Washington, Herbie Hancock, Stevie Wonder, Sting, Alicia Keys, and many others.
The show will feature Shola on saxophone and vocals, accompanied by his full jazz band. In addition to original songs from his new album, Shola will play his takes on some classic jazz favorites. The evening will provide a creative blend of music that feeds off traditional African rhythms while maintaining classic jazz style.
The concert is being put on by Eddie Owen Presents (EOP) on Friday, January 17th at the Red Clay Music Foundry, located at 3116 Main Street in downtown Duluth.
Doors open at 7 pm and the show will start at 8 o'clock. Shola will be available after the show to meet with his fans.
Tickets are available through the EOP website at EddieOwenPresents.com and are $15 in advance, $20 on the day of the show.
For more information please contact Glenn Boylan via email at FlourSackLLC@gmail.com.