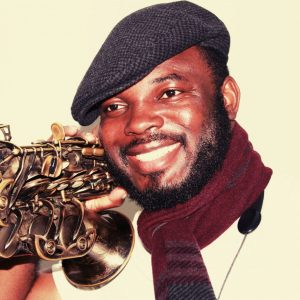 Nigerian-born artist Shola Emmanuel interprets Jazz in the African style. A saxophonist and recording artist, he creatively blends music that uses traditional African rhythm while maintaining western voice, class, and style.
Mr. Emmanuel made his first international appearance as a trumpet player at the LeZènith stage in Paris, followed by a performance before a crowd of 80,000 with Andy Narell at the South Africa Art Alive festival in 1999. Shola's performances connect with both jazz connoisseurs and those new to the genre. His affinity with music has gone beyond just playing the saxophone to building relationships that bridge gaps, transcends barriers and speaks deeply to those who have come to love his passionate approach to music.
He has explored new horizons with masters of the professional music scene, including Quincy Jones, Kirk Whalum, Avishai Cohen, Herbie Hancock, Sting, Stevie Wonder, Eric Mariental, Joshua Redman, Roy Hargrove, Eric Essix, Alicia Keys, Mary J Blige, Esperanza, Muyiwa Kunnuji, Russell Gunn, and Joe Grendson. 
He's played at venues large and small around the world, including: The Howard Theater (Washington, DC);  Mercedes-Benz Superdome (New Orleans, LA ); Martin Luther King Day Concert (Atlanta, GA); Hampton Jazz Festival (Washington, DC);  Northside Festival (Brooklyn, NY); Mississippi Valley Blues Festival (Davenport, IA) and many others. 
His new album, Kind of Music, will be released this year, following up his Youruba Project and Kind of Highlife albums. Shola's music is available on Spotify and videos of his performances are on YouTube.
There's more information, music, and videos on Shola's web site at:
www.SholaEmmanuel.com